---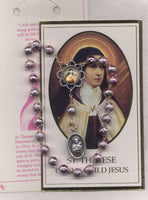 St Theresa was only 24 years old when she died but her impact on the spiritual life has been immense, with her "Little Way" of doing everything with big love for Jesus. Her reputation for showering the world with "roses", gifts of grace to those who ask has made her a very popular saint to ask favours of.

Made with lovely pink and silver metal roses and a full colour cameo style centre of St Theresa as well as an oval oxy medal of the saint.
This little chaplet is designed to be said for 9 days for a special intention.  Includes a nice prayer card too!