---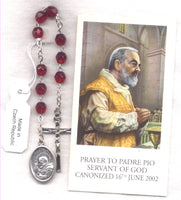 Great store
Excellent experience. I come back always.
A 7 minute chaplet is just that, a devotional prayer which takes about 7 minutes to say, comprised of a prayer to the Saint, with your petitions, followed by 3 Our Fathers, 3 Hail Mary's and 3 Glory Be's.
St Padre Pio, also known as Saint Pio of Pietrelcina, O.F.M. Cap., was a friar, priest, stigmatist, and mystic, now venerated as a saint of the Catholic Church.
This little chaplet is designed as a short prayer set to be said for 9 days for a special intention. This chaplet has a detailed crucifix and lovely medal of St Padre Pio. Includes a nice prayer card too!
Made in the Czech Republic