---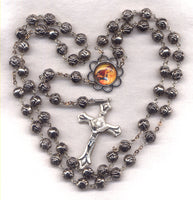 Beautiful antiqued silver rosebud acrylic beads! Roses for the rosary!
Sturdy Italian made ornate crucifix with a full color glass dome icon centre of Our Lady Quick To Hear. She gestures toward little Jesus, saying all things come through Him who is God, yet He points to her indicating He will grant whatever she asks.
Sturdy thick linking! Made by hand in Canada

Awesome gift for any occasion!
This rosary measures approx 22" long Dominican style (5 decade) rosary.