---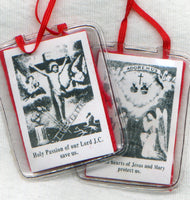 Lazarist Order Red Passion of Jesus scapular to honor the sufferings of Jesus.  Thin red ribbon 18" cord and plastic casing for protection.

Purpose: To implore protection of the Sacred Hearts of Jesus and Mary and to promote memory of the Passion
Practices: Wear the scapular with intention to fulfill the purposes the scapular represents
Promises: Special graces of faith, hope and charity on Fridays to the wearer along with indulgences granted by the Church
Origin: This scapular owes its origin to a series of apparitions of Jesus Christ to a Sister of Charity of Saint Vincent de Paul, Sister Apolline Andriveau, in 1846 in which He showed the sister a red scapular.
Promises: To all who should wear it on every Friday a great increase of faith, hope, and charity.
Church Approval: It was approved and indulgences were granted to its wearers by Pope Pius IX in 1897. Priests of the Mission (Lazarists) were given the faculty of blessing the scapular and investing the faithful with it; the Superior-General can communicate the faculty of blessing and investing with this scapular to other regular or secular priests.