---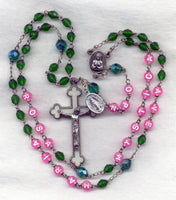 Beautiful message! In pink beads, it reads "Ave Maria Rosa Mystica" Latin for "Hail Mary, Mystical Rose", on the drop "O P N", the abbreviation for "Ora Pro Nobis", Latin for "Pray for us!".
This rosary includes a quality Italian-made inlaid crucifix and emerald green faceted Czech glass beads.
Beautiful silver color Rosa Mystica center! Bonus attached Miraculous Medal!
This rosary is a 5 decade Dominican style rosary and includes prayer leaflet.
Made by hand in Canada