---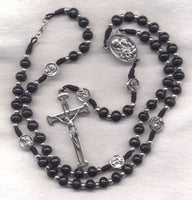 Sale
St Anthony is the saint to go to to find lost things, like your car keys or USB key, but also the patron of lost souls needing conversion, or problems with debt, as he rescued many people from the clutches on money lenders in his day!

He was gentle and humble but hard working and loving. This rosary necklace pays tribute to him with St Anthony Our Father beads and a St Anthony centre with the image of Our Lady of All Graces on the back, the patroness of the Franciscan Order, of which St Anthony was a member. Lovely quality Italian crucifix too!
Use it to say the holy rosary and wear it around your neck as a statement of faith!
Made with sturdy knotted cord and quality wood beads. Made in Italy