---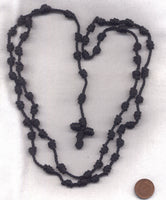 Good
The knots move nicely between the fingers and I can tell instantly when I've reached the end of the decade. The cord feels softer than I thought it would, too. At 20", it's fairly long. Recommended for those who want a rosary with no breakable parts.
This is a sturdy cord rosary made entirely of knots, even the cross is knots. The centre join is one large knot.
Measures approximately 20".  Includes prayer leaflet.

 Made by hand in Canada