---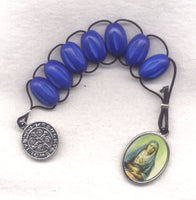 Handy, sturdy, one decade pull rosary for the 7 Sorrows. Unique design lets you pull the beads as you say them but they stay in place if you get interrupted so you can pick up right where you left off! Great for driving, coffee break or bed time! Pull one bead at a time only, from one end or the other. You cannot pull groups of beads.

Durable nylon cord will easily navigate your pocket (or an accidental trip through the washing machine). Dark color cord stays "fresh" looking even after lots of use, unlike white which will show every speck!
This one decade 7 Sorrows pocket rosary features quality Czech made grooved blue wood beads, a St Benedict Medal and double sided colour medal of our Lady of 7 Sorrows.

Every rosary in this shop comes with a prayer leaflet. Made by Hand in Canada